At the junction of two oceans and two continents, Panama City is one of the most diverse cities in Central America. A hybrid of Afro-Caribbean, European and Latin American cultures, the metropolis is home to a dynamic fusion of indigenous and modern influences. In April 2013, Panama City hosted the first-ever Art Bienniale of the South with the aim of promoting new trends in visual arts across the Central American region.

ARTISTS
Guillermo Trujillo
Panama has seen a number of notable painters. Guillermo Trujillo (b. 1927) and Alfredo Sinclair (b. 1915) are considered two of the best and their work has been shown in galleries across the world.
 Alfredo Sinclair Mujer con redes y peces (1993)
Roberto Lewis (1874-1949) is another well-known Panamanian painter who is best known for his large murals and paintings of Isla Taboga, an island close to Panama City. His work often mixes history with mythology and is still found today in the Teatro Nacional and presidential palace.
'Victoria' – Brooke Alfaro
Younger painters include Brooke Alfaro (b. 1949), whose paintings focus on the marginalized members of Panamanian society, and Isabel de Obaldía (b. 1957), a woman known for both her painting and glasswork.
'Ancient Vessels of Love' Art Exhibit by Artist Sheila Lichacz
Sheila Lichacz (b. 1942) is Panamanian artist whose work was exhibited at the Smithsonian in Washington, D.C. in 2003. Her subjects are frequently the tinajas (clay pots) that date back to pre-Columbian times and are famous throughout Panama.
Panama also has a thriving contemporary arts scene featuring well-known Panamanian photographer Sandra Eleta, and the work of artists from around the world.
INDIGENOUS ART & CRAFT
From the traditional indigenous molas to modern frescoes to the varied architectural styles of the capital city's towering skyscrapers, Panama is itself a work of art. Generations past have each left their mark, fusing styles from different beliefs and traditions. Simple colorful homes and quaint plazas in Panama's interior stand as an imprint of the past, all with an impressive and natural backdrop. Panama's capital is a canvas with building restorations, sculptures and even street art to promote urban culture and cover up grey cement. Former U.S. school buses are given a complete makeover before hitting the streets, a moving art piece with favorite idols, icons and even  family members depicted in bright colors and imaginative style (note: these buses that oncer served as a form of public transportation have now been replaced by the Metrobus).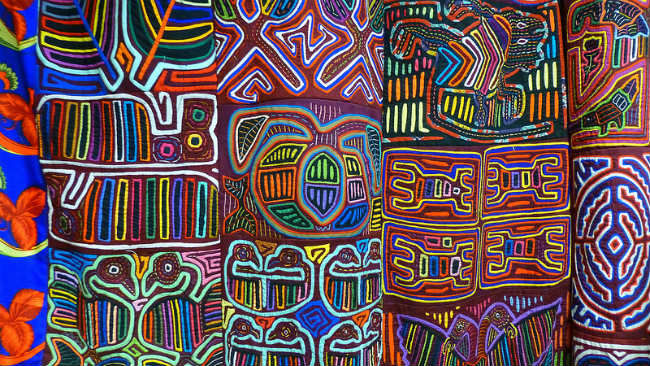 The various examples of indigenous arts and crafts in Panama continue to be a symbol of national art and pride, furthering the use of color and the natural surroundings as an inspiration to their designs. The pollera, Panama's traditional dress for women, is a stunning form of artistic expression, highly celebrated and honored in Panamanian culture.
Two of the more iconic pieces of indigenous art or fashion coming from Panama are the Panama hat and the mola.
A mola is a colorful and intricately-woven textile of layered fabrics, generally sewn to represent a local animal species or geographic design. The word mola means 'shirt' in the Guna language and the designs were originally painted on female bodies. Later they were woven into cotton textiles, until pre-made fabric became available thanks to Spanish colonists, giving them their current design.
The Panama hat is a tradition born in the heart of the country, in the Los Santos and Veraguas provinces. One hat may take an entire year to complete as they are woven from millimeter-thick pieces of straw. While the Panama hat was made popular in the 19th century as an accessory to beachy, vacation attire, in the interior of Panama, the older men wear their hats with a strong sense of regional pride. Towns that produce such hats make their individual mark by weaving a specific design into the hat. Such hats can range in quality from 100 weaves per square inch to up to 2,000!
Another traditional art born from the Guna culture are beaded necklaces and jewelry. The most distinct Guna accessory is a single strand of beads that the Guna women wrap around their calves and forearms many times creating a sleeve. These are said to ward off evil spirits.
The Embera indigenous tribe has also made a small industry of one of their cultural traditions – palm fiber masks. The masks are intricately woven and use all natural materials to represent animals like the tapir, jaguar, etc.
Returning to the central region of Panama, the pollera, a beautiful national costume of Panama, actually has its roots in Spain thanks to the arrival of the Spanish conquistadors. The outfit, which consists of a two tiered skirt and peasant style blouse, is said to have originated from the style of clothing worn by servants, which was much lighter and comfortable for the hot climate. The polleras are often made of fine fabrics like silk, and the adornments and jewelry worn with the outfit became a sign of one's wealth. Today, the art of the pollera lives on, and the traditional dress can cost hundreds or even thousands of dollars. A Pollera festival is put on every year in Panama City to commemorate the traditional dress and culture of all regions of the country.
Today, much of the traditional art of Panama, including pre-Columbian art, has been preserved and replicated, allowing the country's traditions to live on. There is also an emerging art scene in Panama City offering anything from modern art paintings to wood carvings and interior design. The city inhabitants are very much a la mode when it comes to clothing and style in comparison to some of their Central American neighbors. The musical art scene is another thriving sector with several internationally renowned artists varying from reggaeton to latin pop.
CONTEMPORARY ART GALLERIES IN PANAMA
If you plan to visit Panama, here are some of the best contemporary galleries in the bustling capital, Panama City.
Dgriss Art Gallery 
Bringing international contemporary art to the doorstep of art enthusiasts in Panama, the Dgriss Art Gallery displays the innovative and high-quality work of emerging artists from all over the world. The couple who run the venue, Pablo and Daniela Griss, give the modern gallery a personal touch, providing visitors with a warm welcome. They are also happy to talk about the works on display and are knowledgeable about the local art scene. Pablo Griss, an artist himself, exhibits a number of his own works – colorful abstract paintings which illustrate geometric spatial explorations. According to Daniela Griss, 'contemporary art invites each viewer to feel a thousand things and to give each art piece a personal interpretation, and Dgriss aims to enhance this experience.'
Dgriss Art Gallery, Torres de las Americas (Punta Pacifica), Panama City, Panama (+507) 201-5550
DiabloRosso
Founded in 2006, DiabloRosso is one of the few experimental spaces in Panama City that supports and promotes young artists. With its daring yet befitting name meaning 'Red Devil', DiabloRosso aims to encourage alternative thinking and nurture bold, young talent even though based in Casco Antiguo, the historic quarter of the city. The gallery is a multifunctional innovative hub, and consists of a showroom and a concept store. From art exhibitions, film screenings and lectures to dance performances and community-led art projects, the gallery is a wellspring of culture, seeking to deepen the appreciation of contemporary art and culture across the region. The store features items and clothing from young independent local and international designers.
DiabloRosso, Calle José De Obaldía y Calle 8va Oeste, Panama City, Panama (+507) 262-1957 
Weil Art Gallery
The Weil Art Gallery's philosophy of 'art as the fuel of life' is immediately apparent. This upscale gallery showcases a range of remarkable paintings and sculptures, as well as handicraft of local and international origin. It includes pieces crafted in the 21st century by the indigenous Wounaan, Embera and Guna tribes of Panama – a powerful statement on the dichotomy between modernity and tradition. Situated in Casco Viejo, the historic old quarter, the gallery is the only art auction house in Panama. Owner Carlos Weil, an expert in Latin American art, takes pride in his work and invests his energy in researching and collecting art pieces for his avant-garde gallery. Weil has also authored a book – 'Canal of Many Colours', which recounts the history of Panama and its canal through the eyes of several contemporary artists.
Weil Art Gallery, Calle 48, Bella Vista, Panama City, Panama (+507) 264-9697 
Galería Arteconsult
With more than 30 years of experience, Galería Arteconsult is a permanent showroom for high-calibre contemporary Panamanian and Latin American art. From abstract to figurative artwork, this spacious, sophisticated gallery displays an extraordinary assortment of acrylic and oil paintings, photography, sculptures and graphic art. To date, the gallery has hosted and represented artists such as the thought-provoking painter Ukrainian Andriy Halashyn, the fascinating sculptor Aurora Canero, and the well-known Panama-born photographer Sandra Eleta, among others.
Galería Arteconsult, Calle 72 No.34 San Francisco, Panama City, Panama (+507) 
Mateo Sariel Galería
Situated in the exclusive suburb of Coco del Mar, the Mateo Sariel Gallery is dedicated to the promotion and dissemination of vibrant and original contemporary art from all over Latin America. A key contributor to the development of art in Panama and the region, the gallery has presented 84 solo and group exhibitions of some of the most influential national and Latin American illustrious and rising artists and continues to introduce new artists to its public. Towards the end of 2013, the gallery held so easy/so hard, a solo exhibition by local artist Cisco Merel, which showcased a number of Merel's vibrant kaleidoscopic paintings.
Mateo Sariel Gallery, Coco del Mar, Calle 79-E, casa No.14, Panama City, Panama (+507) 270-2403 
Museo De Arte Contemporaneo (MAC)
The privately owned Museo De Arte Contemporaneo is the only contemporary art museum in Panama and home to the world's most comprehensive collection of Panamanian contemporary art. Established in 1983 in a renovated old Masonic temple, the MAC collects, conserves and spotlights art from Panama, as well as the rest of the Latin American continent. Featuring an excellent permanent collection with numerous pieces from the 20th century, the museum frequently hosts temporary exhibitions by renowned and up-and-coming Panamanian and foreign artists. More than just a collection of art, the MAC also houses an extensive library and archives open to the public, with a vision of promoting the history and appreciation of Panamanian and Latin American art.
MAC, Avenida de los Mártires, Calle San Blas, Ancón, Panama City, Panama (+507) 262-8012 
Marión Gallery
Marion Gallery is a cultural space promoting new forms of contemporary art by renowned international artists. With three airy showrooms, the gallery accommodates up to three separate exhibitions at a time. Marión's most distinguishing feature is its permanent exhibition dedicated to Venezuelan artist Carlos Cruz-Diez, one of the most prominent figures in optical kinetic art, with works in museums across the globe. Cruz-Diez's plastic compositions, in particular, are mind-boggling for the way they play with colours to trick the eye. Through its activities and exhibitions, Marión Gallery seeks to create a direct and simple link between the artwork and its viewers, opening art to all audiences, and driving new experiences and dialogue through art.
Marión Gallery, Calle 70 Este, Panama City, Panama (+507) 226-7190 
A Priori Galería de Arte 
A true gem, the A Priori Art Gallery houses a rich collection of photographs, paintings and sculptures. The ground floor of the gallery, where all nationalities and media become equals, features a permanent collection of masterpieces principally from Panama and Latin America. The second floor serves as an open art attic, housing a spectrum of artworks from various artists with a visible appeal to a broad audience of art lovers. The knowledgeable staff add to the ambience, and are always at hand to provide advice and key information on the art pieces.
A Priori Art Gallery, 57 Calle & Avenida Samuel Lewis, Obarrio, Panama City, (+570) 393-8370  
Allegro Galería
Founded in 1991, Allegro Galería started out by hosting a number of group exhibitions featuring well-known artists from Panama's art scene such as Brooke Alfaro, Isabel De Obaldía and Olga Sinclair. In 2000, the gallery held an exhibition to celebrate the beginning of the 21st century – Huellas, meaning 'footprints' displayed the work of 20 of the best female artists living in Panama. More recently, in October 2013, the gallery hosted new artwork by the emerging artist Kansuet whose paintings portray striking interpretations of the balance between humanity, spirituality and the environment, and often depict his daughter. Over the years, the gallery has developed a notable reputation in Panama City as it continues to support and promote the work of local and international artists, exposing the latest trends in the contemporary visual arts.
Allegro Galeria, Calle 73, San Francisco, Panama City, Panama (+507) 226-6967 
Legacy Fine Art Gallery
Situated in the commercial hub of Balboa, the Legacy Fine Art Gallery exhibits paintings by celebrated Latin American artists notably from Panama, Chile, Cuba and Colombia. Featured artists include one of the most celebrated names in Panama Guillermo Trujillo, as well as Bosco Sodi from Mexico, and his large, richly textured paintings, and internationally acclaimed Cuban painter José Bedia. With a range of fascinating artworks presented in different media, Legacy Fine Art offers its visitors a wide perspective on Latin American contemporary art.
…………………………….
Sources:
http://www.vacationtopanama.com/travel-guide/art/
https://theculturetrip.com/central-america/panama/articles/panama-city-s-10-best-contemporary-art-galleries-a-stroll-through-panamanian-art/
https://www.anywhere.com/panama/travel-guide/music-and-art
https://www.reference.com/art-literature/famous-artists-panama-96478afe4c228e10#